Clarity. Strategy.
Results.
Eliminate the root of the problem.
Clarity Blueprint is the signature process specifically created for online businesses that are fed up with spending money on temporary solutions.
Confusion = Delusion
You might think that you need a fancy website, a huge social following or a ton of money to spend on ads, but none of that matters.
People buy only what they want and understand. They don't buy because someone has a fancy logo, complex website, big Instagram following or a great ad. These things are secondary.
Real and sustainable growth comes from having a structured, customer-aligned and properly articulated strategy.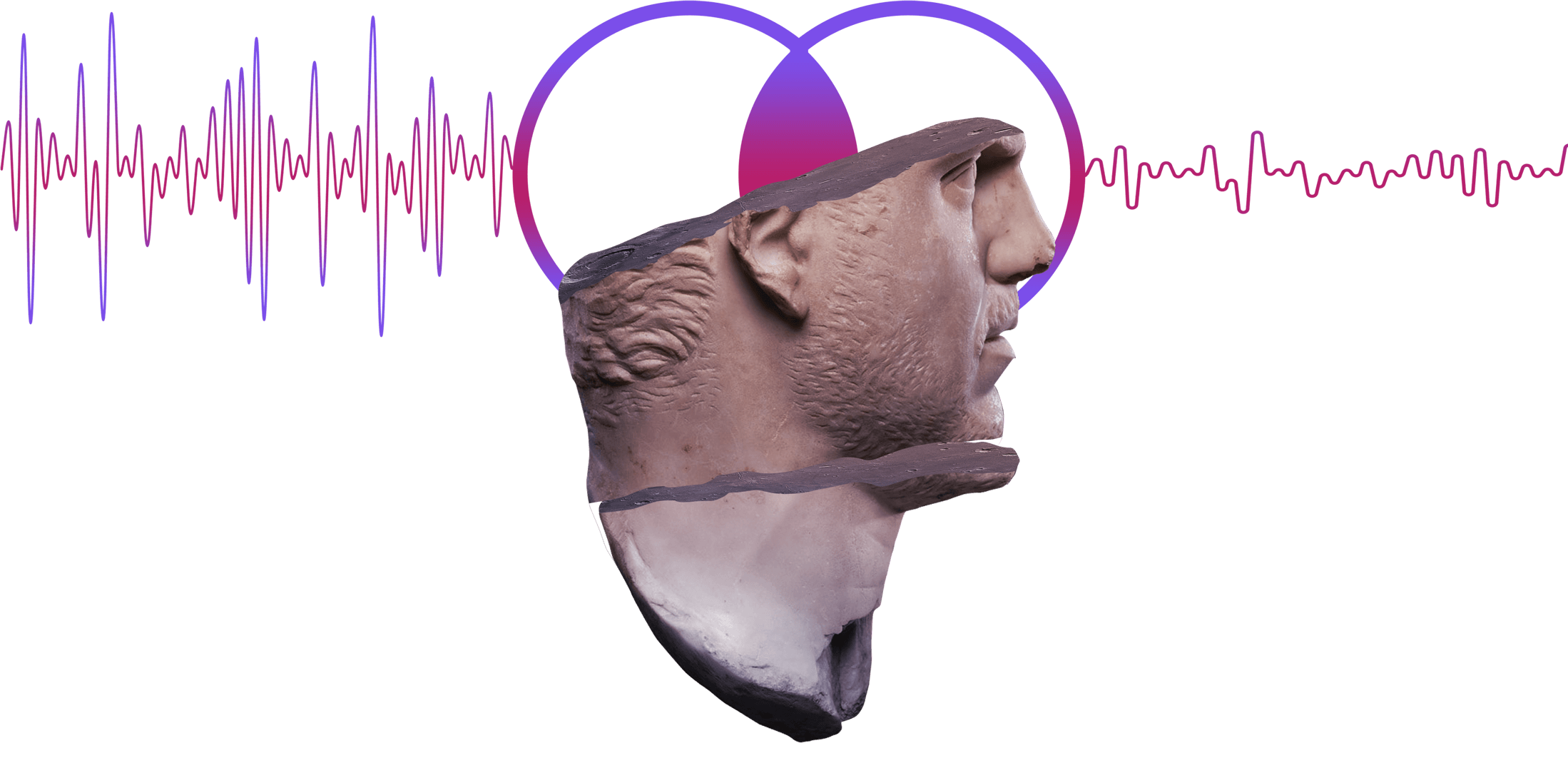 There's no half-baked approach to solving the root of the problem.
Clarity Blueprint works with your customer in mind and reverse-engineers all steps from start to finish with no cookie-cutter work, no BS, no fluff.
"We went from 400 members at $18 per month and when we launched the strategy we almost instantly doubled our membership."
"My list now is over 5000 people, I have generated over $40,000 in revenue and I had several five-figure months!"
"We went from 400 members at $18 per month and when we launched the strategy we almost instantly doubled our membership."
"My list now is over 5000 people, I have generated over $40,000 in revenue and I had several five-figure months!"
Clarity Blueprint has 3 sections: Attract, Convert, Delight.
Each section plays a major role to get you a complete digital strategy and really grow your business.
This is not a cookie-cutter thing. This is a revenue-focused, custom-tailored step-by-step 360° marketing strategy.
*3-min video breakdown of the Clarity Blueprint
Spending money on ads or creating content that does not resonate with your customers puts you in a spot to be perceived as "just an another business that is trying to sell me something".
The solution is not in spending more or creating more.
Content Creation Framework
Content Creation Framework will be your complete start-to-finish documented process on how to create content that actually attracts people to your website.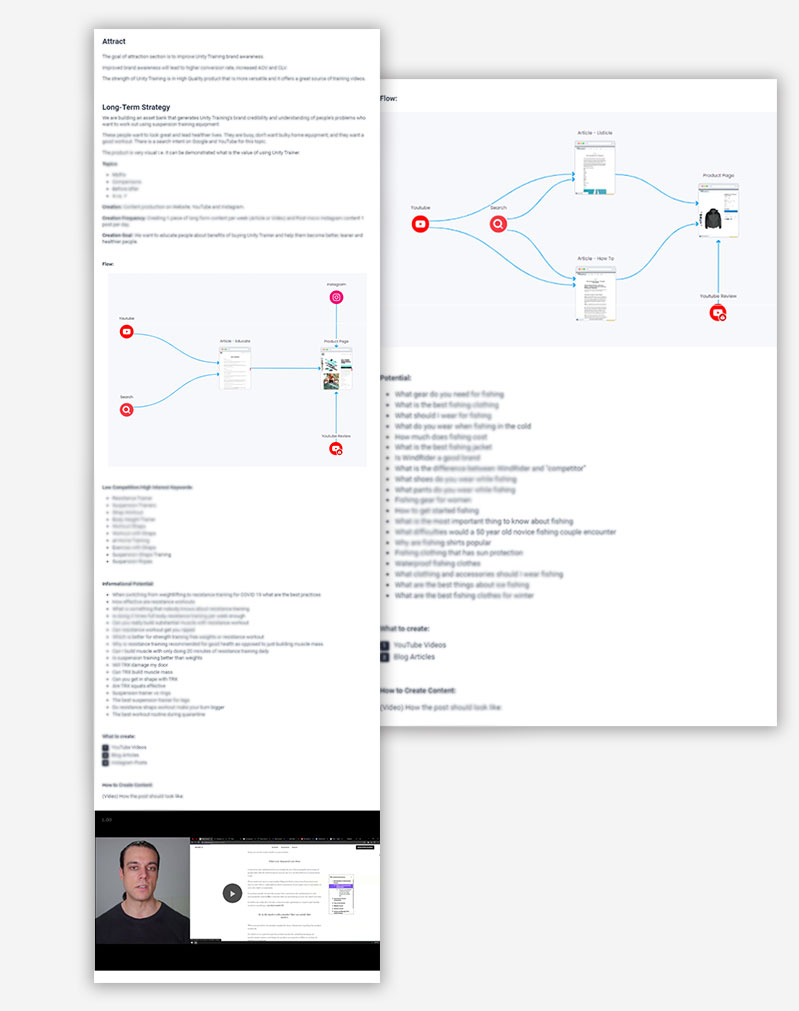 Paid Method System
You can get results faster if you know where and how to use ads. It is not about some secret ad that will skyrocket your ROAS. It is about having a system-like approach to paid method so that you can sustainably grow using ads.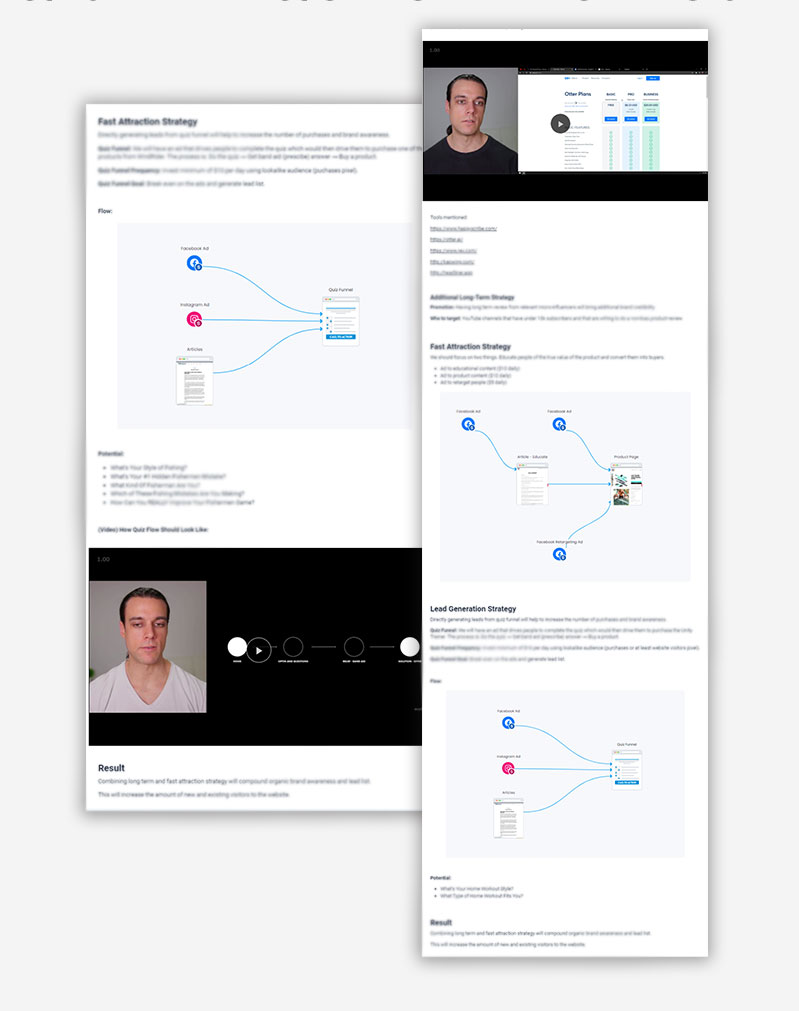 After Attract section, you will have a structure on how to attract the right people, the right way and how to produce faster and better content.
The process will be specific for your business, documented and followed up with videos.
There's no need to waste time and money on guessing how to attract the right people to your website.
Having a fancy website sounds great, but at the end, the only thing that matters is does it convert website visitors into leads and sales.
Performing conversion rate optimization, over the years I have noticed what actually matters to have on website.
Website Upgrade Protocol
Based on data and analytics, the intention is to see the current flow of the customers, see what is blocking them buying from you, and then pinpoint exactly what you need to improve on existing website to increase conversion rates.
From heatmap testing, tracking, improvement of website layout and website flow will be addressed all with the goal to increase conversion rates.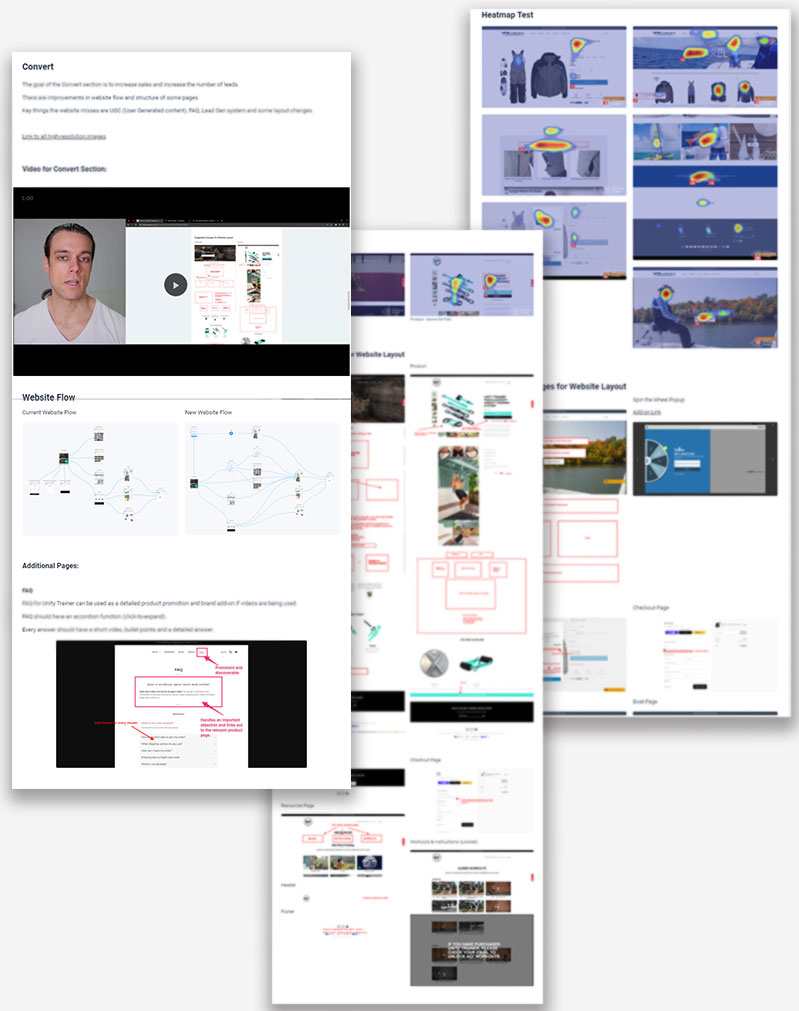 Lead Generation System
A proper lead generation system is not a newsletter, discount code or eBook lead magnet. This just lowers your brand credibility. More leads creates an opportunity for faster and sustainable growth, but lead generation must be a specific and intentional in order to perform well.
Convert section will expose what to improve on your website in order to increase conversion rate, customer experience and what kind of system to have more leads and customers.
Everything will be documented, backed up by data, analytics, my experience in conversion rate optimization and info I have about your business.
Finally, no more doubt on what to improve on your website and increase conversion rate.
People do not buy only goods and services. They buy relationships. That's how you'll expand your business after you convert website visitors into paying customers.
The core purpose of Delight section is to see ROI as Return on Individuals. One customer can be worth 20+ new customers if done right.
Delight Step-by-Step Sequence
The goal is to increase customer lifetime value and build a healthy relationship with your customers. That is done by communication with your customers the right way.
I need to see what kind of email sequence you have, how do you follow up with people and write or rewrite you a complete sequence plus give you suggestions for the right tools to use to automate and build relationships with customers that will lead to more transactions.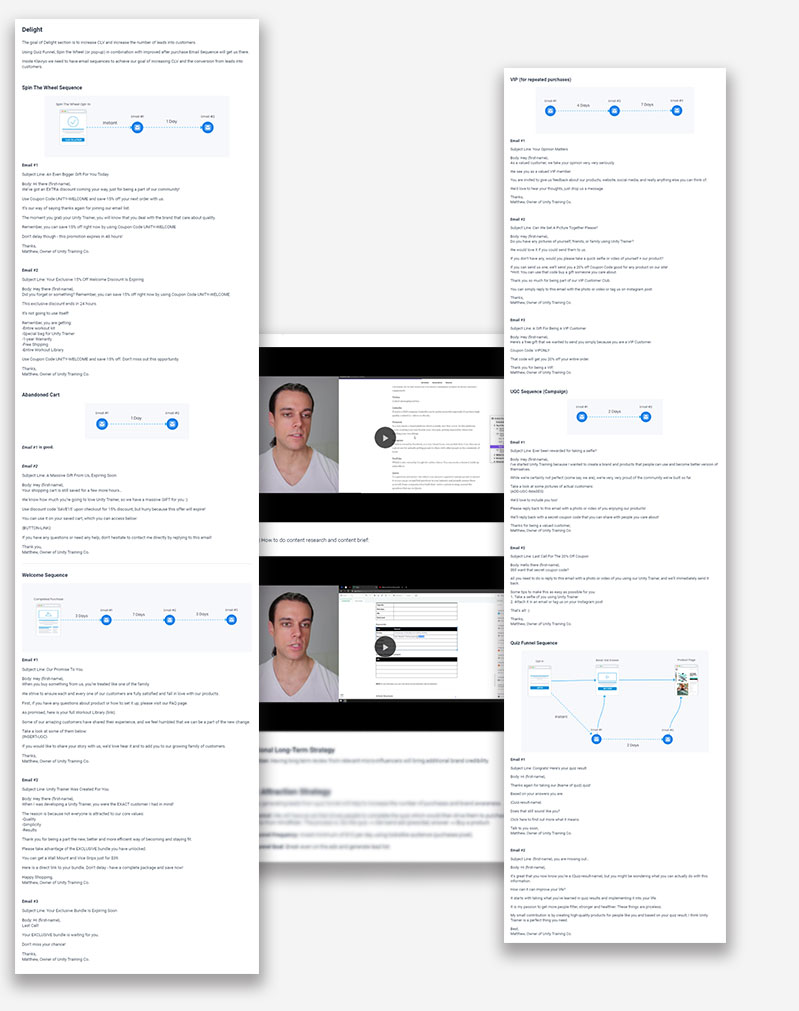 You will not only have a sequence for first-time purchases, but for every customer segment i.e. if they become a lead, if they buy multiple times etc.
Attract. Convert. Delight.
Eliminate the root of the problem and do it the right way.
5-Step Process:
1. Call – Schedule a 20-min free consultation and see if we are the right fit.
2. Start – Gather info about your business, Google Analytics data and start working.
3. Attract Section Completed – Have the 1st 1-hour call to go over the completed Attract section.
4. Convert Section Completed – Have the 2nd 1-hour call and go over the completed Convert section.
5. Delight Section Completed – We'll have the 3rd 1-hour call and go over the completed Delight section.
This is a serious improvement for the entire business, so I must to have all three calls directly with you as an owner and with your marketing department (if you have one).
During our calls, I'll explain what, how and why behind every step. Every section will be documented and followed up with videos to make sure that everything is completely understood.
If you still have questions, make sure to check out FAQ for Clarity Blueprint.
Why don't you offer marketing services instead of a complete strategy? Retainers and cookie-cutter approach is not my cup of tea. I want to develop a holistic marketing strategy specifically for every business I work with so they don't need to rely on any marketing agency.
---
What specifically is going to improve in my business after I have Clarity Blueprint? It depends on your situation, you'll finally have a focus and exact plan what to do and how to do it. There's nothing worse than wasting energy, time, and money because there's no clear direction for improving online business.
---
Is this going to work for my business? If you have an online business and the average customer lifetime value is over $60, it will most likely work, but first, we need to have a call to see if we are the perfect fit.
---
What is the investment? $6k for the entire project, but keep in mind, it is undercharged compared to what you are getting. Confusion, lack of clarity, and "throwing darts in the dark" will cost you more…a lot more. This is a serious investment with real results and applicable execution plan.
---
Do you outsource any of your work? No. I stand behind every project, and that's why I can accept a handful of clients every month. That way, I can deliver bespoke results. Honestly, I'm not fond of clutter at all, so that's why I like to keep things organized, specific, and intentional.
---
What if I have any questions after the strategy is completed? I have a deep respect for every person that works with me. So, of course, you will be able to reach out if you have any extra questions.
---
Tell me more about the process… The entire project is divided into three sections: Attract, Convert, Delight. Through the entire process, I will guide you and explain everything ahead of time. Each section is focused on real and practical strategies so that you can implement the changes and see the results.
Everything is documented and followed up with videos so that every part is clear. On top of that, we would need to have 3 one-hour calls scheduled after each section is completed.
The entire project is usually completed within 10 days.
---
Do you offer something else after Clarity Blueprint? For some people, yes. If I see a potential to have a Mentor Funnel, I'll tell you that during our Clarity Blueprint buildout.
Majority of businesses I've worked with just needed a Clarity Blueprint. If you are ideal for extra implementation, I'll bluntly tell you that.
Click Here To Schedule 20-minute Free Consultation With Marko
WARNING:

Before you claim your free consultation, you must understand that this is only for people serious about setting up their business for long-term success. I'll do the brunt of the work, but to truly get your sales figures skyrocketing, I need your commitment and dedication. If you're not ready for that, please don't waste our time. I have only a limited number of slots available for free sessions each month.
Clarity Blueprint Clients
After having a Clarity Blueprint, clients have a complete solution to eliminate confusion and focus on the things that will actually grow their business. Increase in net profit, conversion rate, CLV and ROAS are just a few positive side effects.
"I have spent $72,170 just on courses and this by far has been the best investment I have ever made in my business."
"We have been growing slowly and gradually. Now it has been like turning on the firehose."
"I have spent $72,170 just on courses and this by far has been the best investment I have ever made in my business."
"We have been growing slowly and gradually. Now it has been like turning on the firehose."
"You've basically taken me by my hand and helped me down the road because I would be completely lost."
"This is the best gift I have ever made to myself, ever."
"You've basically taken me by my hand and helped me down the road because I would be completely lost."
"This is the best gift I have ever made to myself, ever."