Article last updated on August 16, 2021
Data is verified.

---
Multichannel and Omnichannel are two terms that get thrown around a lot in ecommerce, but what do they mean? 
I wanted to write an article on omni channel versus multi channel because the truth is, both of these channels refer to selling in multiple ways.
However, multichannel marketing focuses on all sales channels at once, whereas omnichannel marketing emphasizes direct interactions with customers across different platforms.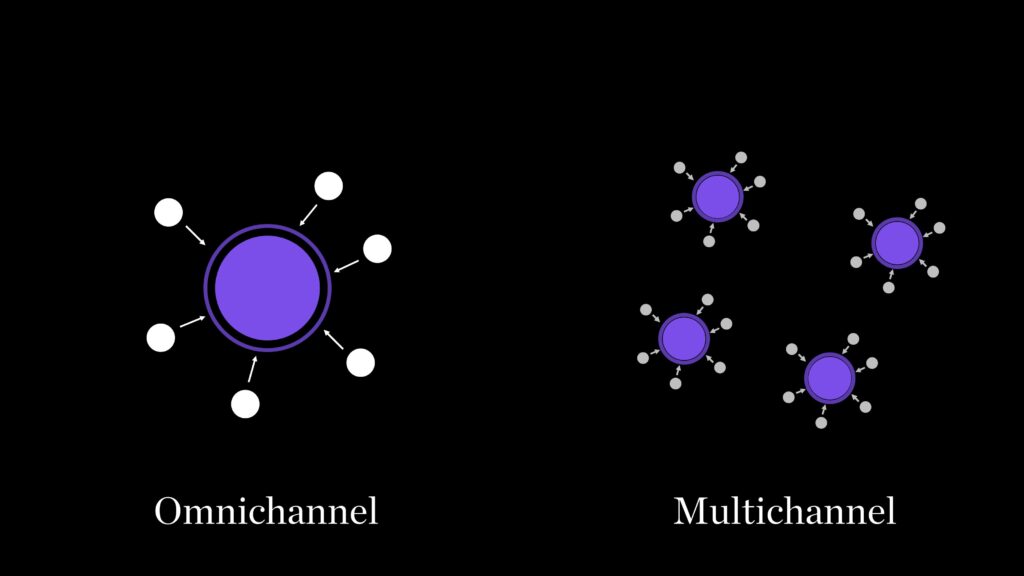 In this article, I will try to dig deep and explain why it matters for your business strategy to understand the difference between them.
Just pay attention to not fall into the trap of focusing on channel strategies built around the company rather than the customer experience. 
This means that a lot of time, money and effort is spent on channels where there isn't much return in terms of sales generated.
If you want your marketing and sales efforts to work together more effectively, so you get better results from each channel, focus on the customer and create a unified customer experience first.
Omnichannel vs. Multichannel
Multichannel and Omnichannel both involve selling through multiple digital and physical channels.
For example, multichannel retailers may have both a website and physical shops. These channels are often very isolated and interact very little with each other.
The stock will be available in stores and sold directly to customers. However, the stock on the website will be separate.
Online orders are not allowed to be returned. Your online interaction with the retailer and your offline interactions are completely separate. Online and offline channels can be treated as distinct businesses.
Remember: Consumers today don't see brands in silos. 
Customers are likely to interact with multiple retailers, and they expect the customer journey between each touchpoint/channel to be seamless. 
Customers would like to have the opportunity to interact with the brand:
Online
Through social media
In-store 
…and they want all of these interactions to be one i.e. inter-connected.
The consumer of today will create their own journeys through the various channels and touchpoints. Each one is important. 
Customer experience is affected if they are forced to use a single channel, or made to start from the beginning when switching channels.
Multichannel and Omnichannel have some key differences and one of them is that omnichannel connects all touchpoints so that customers can choose to travel in a consistent and unified experience.
Which is better, omnichannel marketing or multichannel marketing?
Omnichannel marketing offers so many benefits over multichannel marketing that it's hard to imagine any business not adopting the practice in full.
What are some advantages?
Let's take a look at six major ones: 
1. You can track your customers' behavior no matter where they're shopping.
The most obvious advantage is that you can follow a customer's online behavior across devices. If they start their product search on your mobile site, for example, and then move to an app or desktop computer to complete the purchase, that data will be recorded, so you know where they came from and which of your marketing efforts worked on them.
2. The customer experience is improved because you have less friction.
With omnichannel marketing there is less friction and seamless experience because, with fewer channels to switch between, the customer can find what they are looking for more easily which will help to reduce the customer's confusion.
3. Your products are more accessible and convenient sell
By having these options available 24/7, you can ensure that this convenience is offered to every customer.
This way you are able to sell your products in a more accessible and convenient manner than if there was only one channel which wasn't the best available for every customer at all times.
4. There's better communication between channels.
With omnichannel marketing, instead of just sending out one message to your customers and relying solely on those who received it to talk to the rest, you can have different channels send their own messages that are all tied into one central place where they track everything. 
This way there is better communication between channels as opposed to each doing their own thing.
5. It gives you an advantage over the competition.
With omnichannel marketing, you will be able to have different things going on for your customers in all of their channels at once which will give you that boost or edge over your competition and keep your customers coming back to you. 
This is one of the biggest reasons to utilize this practice.
Over the next few years, we can expect to see an even greater divide between companies that use omnichannel marketing and those that don't.
6. It maximizes your return on investment.
Marketing is expensive, and given the opportunity to get more out of your marketing dollars for less, why wouldn't you? Omnichannel marketing gives you just that opportunity. 
It maximizes your return on investment because it allows you to track and analyze data from all your channels in one place which helps you to know what's working and what isn't.
Therefore, you know where your money is doing the most good and can make any adjustments that are needed to get it working for you even better, increasing your ROI in the process.
This will prove to be a huge business advantage over those who fail to recognize this opportunity or take advantage of it in their own marketing efforts.
These just scratch the surface of what omnichannel marketing means for business owners.
Omnichannel marketing is often the best way to engage customers because businesses that use it are three times more successful in their efforts.
Customer Experience with Omnichannel Approach
Customers nowadays can be considered very demanding since businesses are no longer just competing with other local stores but also against online retailers. 
Customers have a lot of choice as well, and they expect to receive information about the products offered by the business in whichever manner they feel is convenient for them. 
For example, if someone has an interest in buying a product, then they will most likely want to know more about it before making their final decision rather than finding out more details after the purchase is made.
Businesses need to understand this sentiment and target customers through different channels depending on what method of communication best suits them and their needs at the particular time of contact. 
It is also important for businesses to understand that omnichannel isn't just about using different channels to target customers, but it's also about understanding what type of experience they're looking for and how their brand stands up against the competition. 
Since every business has a different objective when it comes to marketing and sales; certain strategies will work better for certain brands.
Some benefits are:
Customer loyalty – A good cross channel experience will make a customer more loyal to the brand compared to those who don't receive positive experiences. 
Better Brand Recognition – Customers are now aware of the brands they have interacted with as well as their offerings. Since customers interact with brands over various channels, brand recall increases when a consistent experience is offered across platforms.
Reduced Costs of Operations – All marketing and business operations need to pass through certain processes such as resource allocation, coordination and execution. This approach ensures that these processes are being executed effectively without any delays reducing operational cost.
Greater ROI – Improved customer experience resulting in reduction in call center traffic helps improve conversion rates at the same time increasing customer lifetime value. This leads to greater return on investment (ROI).
Omnichannel customers are 30% more valuable to your business over the course of their lifetime. 
Customer Experience and Multichannel Approach
Since different customers prefer interacting with brands differently, a multichannel approach will help businesses better understand their target market and their customers' behavior.  
It will also ensure that businesses are able to communicate the information they have about their products, services and offerings across all channels effectively.
Also, a multichannel approach can work for many types of business objectives such as: improving operational efficiency, lowering costs, increasing brand recognition etc. 
There is no one size fits all piece of advice when it comes to developing an omnichannel strategy. 
However, there's one thing that does apply universally – businesses need to learn how best to adapt to what their customers want.
Consistent customer experience across all channels – Customers are able to move from one channel of communication to another without having to face any inconsistency or confusion.
Improved customer engagement – Since customers get a consistent message across different channels, the likelihood of them engaging with you will increase.
Reduced number of call center inquiries – If the brand's customer service representatives are equipped with information about the products and services that have been offered in various communication channels then they can help solve queries faster leading to reduction in call center traffic. This will result in lower operational costs and improved ROI for businesses.
Increased loyalty levels – Better customer experience and customer expectations leads to higher retention rates resulting in increased revenue over time. This lowers customer frustrations and increases customer retention rate.
Examples of Multichannel Strategies
1. Upselling and Cross-Selling: Multichannel marketing can be used to upsell customers across channels. For example, a customer who bought a digital camera could be offered an extended warranty if they go online to renew it. This is commonly known as cross-selling.
2. Ecommerce redundancy: Multichannel marketing is also used when you have too much inventory and are looking for ways to sell the excess stock or products that are left over from a promotion. In this case, multichannel marketing helps you manage inventory levels by selling through multiple channels simultaneously instead of storing everything until one channel clears out before the next product runs out.
3. Addressing shopper needs:  If you have an eCommerce store, it's a good idea to offer customers the ability to buy from your site or call in their order for customer service purposes. This approach will allow customers to get the assistance they need with whatever their shopping experience requires.
4. Use mobile coupons and mobile apps:  Multichannel marketing can be used to reach customers who have a mobile coupon for your product or app.
5. Promotional offers across channels:  Businesses can use multichannel marketing to offer promotional products and gift cards as part of an omnichannel strategy in order to increase sales.
6. The one-to-one approach:  One of the best aspects of multichannel marketing is that different messages can be sent out depending on what channel someone shops from. For example, an eCommerce site will know the number of items a customer has in their shopping cart and be able to send out emails that entice them into buying.
7. Improve the efficiency of website content:  Website content is generally very important for businesses, especially when it comes to driving targeted traffic to your website.
The Winner is Omnichannel, but…
While many retailers use omnichannel elements within their businesses, such as click and collect or reserve in-store, very few of them have fully adopted it or implemented it across their entire business.
Office Shoes have endless aisles that allow customers to shop in-store for items that are not in stock in their store. They also make inventory that is available online available on the internet.
Examples of Omnichannel: The Right Way to Do It
What brands are running successful omnichannel strategies, and who are they?
Nike: Nike is an excellent example of how omnichannel can be used to increase sales and improve customer experience. Each step of the customer journey was optimized to optimize CX. They have seen a 35% increase in digital revenue by integrating personalized suggestions with in-person retail.
Disney: The beginning of Disney's epic journey was by building a community and sharing content. Next, using this loyal community, they launched products that appeal to the community as well as selling through wholesale partnerships. All of this was a way to their current kingdom, which includes their own stores and Disney+.
Starbucks: Starbucks uses an Omnichannel funnel to increase net-new business and loyalty. The funnel looks something like this.

After seeing an advertisement, a new customer enters a store and receives a gift voucher, etc.
They quickly order and check out, while enjoying the entire experience.
They will likely sign up for a newsletter after they make a purchase. The newsletter includes multiple coupons that offer discounts on in-store purchases
After using a few of these coupons, the customer will be prompted to sign up for their rewards program. This offers even more discounts and makes it even easier to complete the checkout process.
Omnichannel: Barriers and Benefits
The cost and complexity involved in implementing omnichannel are the greatest obstacles.
However, there are many ways to overcome them.
Costs associated with omnichannel include:
1) Building infrastructure – this means investing time and money into creating systems that allow your brand to integrate all channels together seamlessly.
2) Integrating marketing automation platforms into your omni channel efforts – so that you can automate processes across different touchpoints.
3) Creating unique user journeys based on each individual's needs – because every person has different preferences when interacting with brands.
4) Developing processes and procedures around omnichannel – such as how to handle returns or refunds. Hence, making sure that customers receive what they want at any given point during the process.
5) Implementing technology solutions such as mobile apps or chatbots – to help customers interact with your brand wherever they may be. Then, providing seamless service delivery from one channel to another.
6) Optimizing website design and layout – so that it is easy for users to navigate between various channels. Plus, ensuring that content is consistent throughout all channels.
7) Testing different channels and optimizing conversion rates – by testing different approaches and then analyzing results for best practices. Therefore, improving overall performance.
8) Redesigning websites and creating custom landing pages – to ensure that visitors get exactly what they need without having to search through irrelevant information.
But, when you overcome just some of these barriers, the benefits become clear.
Benefits of Omnichannel Customer Experience Include:
1) Improved sales conversions – since customers no longer feel like they're being forced to choose which channel works best for them. Instead, they'll enjoy shopping anywhere, anytime.
2) Increased loyalty – since consumers now expect personalized interactions whenever possible. And, if not available, they'll simply move onto other options.
3) Better customer satisfaction – since they know that they can always reach your company via email, phone call, text message, social media, etc.
4) Lower costs – since you don't have to invest additional resources into building separate teams to manage multiple channels.
In conclusion, barriers and benefits aside, I believe that omnichannel should be a top priority for businesses today. It's an essential part of delivering exceptional customer experience. So, make sure that you take advantage of its potential before it becomes too late!
The ROI of Omnichannel
The return on investment from omnichannel comes from several sources. For example, there are cost savings associated with managing multiple channels in parallel rather than sequentially. Additionally:
There are increased efficiencies gained from automating tasks across channels.
There are new opportunities created by integrating online and offline experiences.
There are improved customer relationships due to more personalization.
There are lower operating expenses resulting from fewer people required to support multiple channels.
There are higher revenues generated from cross-selling products and services.
And finally, there are reduced risks related to losing business because of poor communication.
So, how do we measure the success of our omnichannel efforts?
Here are three key metrics that will tell us whether we've made progress toward achieving our goals:
Customer Satisfaction Index: This metric measures' consumer perceptions about their interaction with a particular organization over time. In essence, CSI represents the degree to which customers perceive that they were treated fairly and courteously.
Conversion Rate: This is defined as the percentage of website traffic that converts into actual purchases or leads. A high rate indicates that most site visitors are interested in buying something. Conversely, a low rate means that many visitors leave without making any purchase at all.
Average Order Value: This refers to the average dollar amount spent per order. An increase in this number usually reflects better value for money. However, a decrease may indicate that shoppers are becoming increasingly price sensitive. I have written an in-depth article on how to increase Average Order Value if you want know more about it.
All in all, these numbers provide valuable insights into the effectiveness of omnichannel strategies.
As mentioned earlier, omnichannel offers so much promise when it comes to improving conversion rates, increasing sales revenue, reducing operational costs, and enhancing overall brand reputation.
Future of multichannel and omnichannel
Although there are few businesses that have fully embraced omnichannel yet, consumers' expectations and behaviors should drive brands to invest in technology and cultural changes to make it happen.
Multichannel will create barriers for customers who wish to control their journey and will eventually lead them to the competition.
I expect to see more affordable and innovative technical solutions that allow brands and consumers to connect the channels, allowing them to create their own journeys with the brand.
Providers of e-commerce platforms will continue to innovate in order to offer in-store capabilities instead of just online.
In-store solution providers will need to be more integrated with other channels.
This is because digital is driving the majority of this change, which is why traditional in-store solutions providers have the most work ahead.
Culture shock: Businesses need to adapt to new ways and methods of thinking
Culture is another barrier to omnichannel commerce adoption. A business must be driven from the top down to succeed in digital transformation.
Nearly every employee must embrace the idea and adapt to their roles.
Resistance from staff in-store is one of the greatest cultural hurdles brick-and-mortar retailers will face when they implement omnichannel. 
Store staff will likely view the digital retailer's business as a threat in a multichannel world. They will get commissions from selling in-store, so customers are less likely to shop online.
You are less likely to pay commission on orders placed in-store if you are paid on commission.
Sometimes, sales staff might try to convince customers to buy something they have in stock, instead of what they really want. This will eventually be detrimental to the customer's experience.
This cultural problem can be overcome by ensuring that your technology allows for you to log in-store interactions and track customers who continue to shop online. 
A user might have multiple interactions online and in-store with different people from the retailer when purchasing furniture or other high-ticket items. 
These interactions can be online, in-store, over the phone, or via live chat. It is possible to have multiple interactions with different people within the retailer's business.
It is possible to create an incentive program that rewards staff members for making sales, regardless of where they are located. If your staff continue to act in siloed ways, it is not worth breaking down barriers between channels.
Common Questions About Omnichannel vs Multichannel
What is the biggest difference in mindset between companies utilizing a multichannel approach strategy and an omnichannel approach strategy?
What was once a strictly offline strategy is now being used to create an omnichannel marketing strategy instead.
The mindset here has changed from people thinking that multichannel marketing is something they should do, but rather, it's a logical approach for anyone to take advantage of if the circumstances are right for their company.
For example, a successful ecommerce site with thousands of products and hundreds of SKUs can greatly benefit from multichannel marketing strategies because they have more items to sell to potential customers via online channels or brick-and-mortar stores versus just one channel.
In addition, it allows them to focus on the customer experience by providing options while also keeping inventory in check via redundancy.
When businesses understand how important purchasing patterns are for driving sales growth, they can create a marketing strategy that focuses on this by offering items online or in-store.
Multichannel marketing makes it easier to understand the needs of shoppers, especially since there's so much data available about purchasing habits at any one time.
If you examine these trends and look at historical sales data for future projections, businesses that take advantage of multichannel strategies will have more success with their customers than those who don't.
One major benefit is that a company doesn't need to have every aspect of their omnichannel strategy operational right away, as long as they are constantly working towards making improvements so that it becomes efficient once the entire system is put into place.
Are multichannels and omnichannels the same?
Multichannel and omnichannel are not the same, despite how similar they might be when it comes to their purpose and definition.
Omnichannel infrastructure has been defined as having every available option for customers to interact with a business all in one place.
This includes physical locations, mobile apps and online stores or sites. It's also important that there's consistency between these various channels so that it doesn't confuse customers if things don't look or act the same way across different platforms and other outlets where your brand or retailer is available.
Multichannel has been defined as having different platforms that are all used to serve the same purpose and information.
For example, a business may have its own mobile app but also include functionality for online purchases and other aspects of the company from social media accounts or websites.
The main difference between omnichannel and multichannel is that there's only one primary way in which customers interact with a brand, while omnichannel involves multiple ways for it to exist across physical locations, apps or websites.
Omnichannel involves everything without being too fragmented on any specific outlet.
Multichannels involve using all outlets separately for your marketing strategy, even though they're connected towards serving the same goal.
What about action in response to customer contact, what is average response time in omnichannel versus multichannel approach?
The short answer is: Its faster using multichannel if you know what channel your customers used to reach out to you. If that is via the Facebook Messenger, then double down on that.
But if you've ever tried reaching out to a business or organization that has multiple platforms for customers to contact them, then you know how difficult it can be to get their attention.
One of the biggest misconceptions about omnichannel and multichannel marketing is that everything will happen in real-time, which isn't always feasible. It would feel disconnected and customers will not get a relevant message.
There are often different teams responsible for handling customer service based on their physical location or other aspects like departments within a company, but there should also be some form of communication between these teams so that messages get passed along as quickly as possible if needed.
You can't always guarantee an answer from your business immediately if they're working at a place with hundreds of people in the office.
It's hard enough just getting the attention of someone who works closely with you.
It can be difficult keeping track of multichannel communications while adding more ways to contact your business if needed.
You'll only frustrate customers more if they're reaching out through one outlet but aren't getting a response no matter how many times they try.
It just takes more time responding to everyone through each channel than it does handling individual requests through one primary outlet where they feel like their concerns are being heard and taken seriously.
It also depends on what type of business you're running since there will always be some shoppers who prefer contacting businesses by phone rather than online or other means of communication.
If this is the main way your target audience communicates with businesses, then it would be more effective to focus on answering phone calls through your multichannel marketing strategy.
What analytics and software to use to track results from omnichannel and multichannel marketing?
In order to make right decisions, businesses need the information to back up their claims. You should look over your analytics and start tracking conversions, purchases and sales from both channels.
It's important for businesses to analyze how traffic will be affected by a business being available through multiple outlets, which is exactly why it's so crucial to figure out what kind of analytics you'll need in place so that it can help guide your data-driven decisions moving forward.
One key aspect of omnichannel marketing is having access to customer data, especially since this helps with personalized services and recommendations or products based on trends that shoppers have shown interest in previously.
It can also make sure that customers are directed towards different aspects of the brand or retailer based on their specific needs and their purchasing decision.
You should start tracking data with Google Analytics first. There are other tools to track the performance, but keep it simple at the beginning, and then you can add more complex actionable analytics tools.
What role does play physical location in omnichannel and multichannel marketing?
All channels share information about customers, but they also have their own particular ways that shoppers interact with a business.
This is why it's important to think about how physical locations factor into the marketing strategy and whether or not they need to be in place right away.
Businesses can start off by selling items online before putting different aspects of their omnichannel strategy into play.
For example, location closest to their customers may be the most important aspect, but it isn't crucial for the multichannel strategy to be in place from day one.
Businesses don't need to invest in a brick-and-mortar location right away if they have success with selling online.
There are ways that they can outsource these services and handle customer service through email, chat or social media platforms until they feel comfortable enough moving forward. It's all about launching the system in phases.
How to use email marketing in omnichannel and multichannel marketing?
Email marketing is a great way to build relationships between a company and its customers. Not only can you message them directly, but it's also important for businesses to take into account the preferences of their shoppers in order to best craft these emails that are meant to entice sales.
For example, an e-commerce business can send out discounts they're offering on certain products, but they can also integrate this with coupons and promotions offered at the physical retail store itself.
This helps their customer base because they have more ways to buy items from the brand or retailer without having to rely solely on one channel alone.
It's also helpful if you include personalized offers as part of your multichannel marketing strategy via email.
For example, you could offer them a coupon for 15% off their next purchase, but only if they come into the store to use it. This gives customers an incentive to visit your store and so you can effectively increase sales because of this.
Email marketing should always be an important aspect of any multichannel marketing strategy that exists for businesses today.
Not only is it effective in getting messages out to potential customers, but it also allows you to better understand their preferences and buying habits in order to get more sales from these individuals who are more likely to convert since they're already actively shopping with your company or brand.
Conclusion
I would like to close this topic by saying that omnichannel versus multichannel is highly relevant to your company's future growth prospects. If you don't have a strategy yet, then now is the perfect time to start thinking about what kind of omnichannel approach might be best suited to meet your needs.
If you already have one, then I hope that my article has helped clarify some important points regarding the differences between them. Hence, if you're looking to improve your digital marketing performance, then please consider implementing an omni channel strategy. It's not only good for your bottom line but also great for your customers!
Thanks again for reading. Please share this post with someone who might benefit from reading it.